08 September 2019
Zdzisław Szostak has died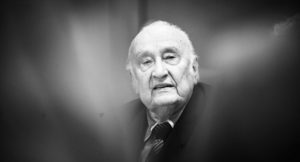 We were deeply saddened to hear that on the 7th of September 2019 a prominent Polish conductor and composer, Prof. Zdzisław Szostak, who cooperated with Poznan Philharmonic for many years, has died in Lodz.
Born in 1930 in Sosnowiec, he studied in the National State Music School in Katowice – composition with Bolesław Szabelski and conducting with Artur Malawski.
In the Poznan Philharmonic he held a position of conductor and artistic director in the years 1967-1971. He also worked with choral ensembles in Poznan, including being the first conductor of the Academic Choir of Adam Mickiewicz University.
Then for 16 years he performed the duties of deputy chief of artistic matters and conductor in the Lodz Philharmonic, and with this city he was linked with till the end of his life. For many years he was the Professor at the local National State Music School, later renamed the Academy of Music.
Zdzisław Szostak composed numerous musical pieces for symphony orchestra (including Darmstadt Concertino for violin, piano and orchestra, 1998; Musica per corno e orchestra sinfonica, 2000; Concertino for marimba and symphony orchestra, 2002; Missa Latina for soloists, choir and great symphony orchestra, 2003), as well as chamber ensembles (for example Quintet for wind instruments, 1952; Arabesque for oboe and piano, 2006; Scherzo-Toccatina for bassoon and piano, 2006; Ad libitum et Quasi Polonaise for double bass and piano, 2015). He also created soundtrack for over 40 films (including "Aria for an Athlete" and "Daimler-Benz Limousine" directed by Filip Bajon; "The Knight" directed by Lech Majewski; "The End of the World" by Dorota Kędzierzawska). As the conductor he recorded music for 200 movies.
Zdzisław Szostak was not only a brilliant artist and creator, but also a great, modest person – kind to everyone he met. He maintained regular contact with Poznan Philharmonic and came to our concerts. We hosted him recently at the concert commemorating the 70th anniversary of our institution.
Polish culture lost a great artistic personality.
We would like to express our sincere condolences to the family of Maestro Zdzisław Szostak.
Wojciech Nentwig, Marek Pijarowski i Łukasz Borowicz
along with the Poznan Philharmonic ensembles and the staff