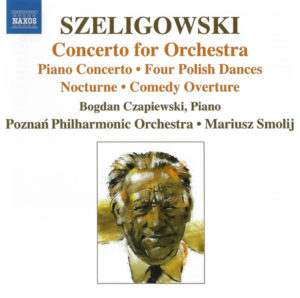 TADEUSZ SZELIGOWSKI
CONCERTO FOR ORCHESTRA
Recorded at the auditorium of the Adam Mickiewicz University in Poznań, Poland,
From 19th to 21st December, 2006, and from 20th to 22nd February, 2007
Mariusz SMOLIJ – Conductor
Bogdan CZAPIEWSKI – Piano
Anna ZIÓŁKOWSKA – Violin solo *
Poznań Philharmonic Orchestra
Tadeusz Szeligowski
Comedy Overture (1952)
Four Polish Dances (1954)
Procession
Waltz from the Lublin region
Bucolic Dance
Oberek*
Piano Concerto (1941)
Allegro con brio
Andante
Allegro risoluto
Nocturne for Orchestra (1947)
Concerto for orchestra (1930)
Allegro con brio *

Andante con moto
Allegro vivace
All Works World Premiere Commercial Recordings Special thanks to Government of the Wielkopolska Province and LOT Polish Airlines.
Producer: Mariusz Smolij
Recording, engineering and editing by Lech Dudzik and Julitla Emanuitow
Publisher: PWM Edition (Polskie Wydawniclwo Muzyczne), Krakow. Poland
Booklet notes: Janusz Kępiński and Mariusz Smolij
Cover painting of Tadeusz Szeligowski by Waldemar Świerzy.
---