news
21 May 2020
BEGIN WITH BACH… – ON THE 3rd DEATH ANNIVERSARY OF ZBIGNIEW WODECKI
On the 22nd of May falls the 3rd death anniversary of Zbigniew Wodecki. With reference to this date, four young violinists of Poznan Philharmonic prepared a video recorded at their homes featuring one of the first – yet how symbolic – hits of the prematurely deceased "bow friend". The piece was arranged by Radosław Mateja – husband of one of the performing artistis.
We encourage you to watch the video and listen to the music.
Zbigniew Wodecki – Begin with Bach
Performers:
Anastazja Kołodziejczak – violin
Kosma Müller – violin
Magdalena Mateja – violin
Weronika Stabrawa – violin
20 May 2020
BOX OFFICE OF POZNAN PHILHARMONIC
Ladies and gentlemen, we would like to inform you that on the 2nd of June we open the box office of Poznan Philharmonic (Wieniawskiego street 1).
The box office will be open from 2nd of June till 30th of June 2020 on Tuesdays, Wednesdays and Thursdays, from 10 am to 2 pm.
19 May 2020
LEGEND OF THE BATON
Next Friday 22nd of May at 7 p.m. we invite you to another Internet concert of Poznan Philharmonic. This time we will bring back the memories of a concert that we waited so long for; concert which was one of the artistic meetings that you never forget. It was a delight, but also a challenge for Poznan Philharmonic Orchestra to play under the baton of one of the most famous world's known conductors of the 2nd half of the 20th century. Poznan Philharmonic Orchestra performed, among other works, Symphony No. 2 in D major, Op. 36 by Ludwig van Beethoven. The album with the recording of the live performance was released a few months later by Poznan Philharmonic and DUX label.
Performers:
Sir Neville MARRINER – conductor
Poznan Philharmonic Orchestra
Program:
Ludwig van Beethoven – Symphony No. 2 in D major, Op. 36
Adagio molto – Allegro con brio
Larghetto
Scherzo (Allegro)
Allegro molto
15 May 2020
ON THE 100th BIRTHDAY ANNIVERSARY OF JOHN PAUL II
Stefan was his peer, they simply liked each other…
The choir sang, the Pope joined its ranks…
Millions of people… Never before or since I performed before such a huge auditorium…
These are only three quotes from the film prepared by Poznan Nightingales choir for the 100th birthday anniversary of Karol Wojtyła – Pope John Paul II. This unusual documentary was interlaced from memories of choristers and their photos kept at home albums, as well as the archives of Poznan Philharmonic and its Choir.
The emotions that accompanied choir singers performing for John Paul II (and having the opportunity to meet him) have remained written in their hearts for ever. And as the Nightingales sang for the Polish Pope numerous times – in Poland and in Vatican – many images can be brought to mind.
You will not hear these stories anywhere else. We invite you to the websites and Facebook profiles of Poznan Philharmonic and Poznan Nightingales on Monday morning, 18th of May.
14 May 2020
A FEW WORDS FROM MIDORI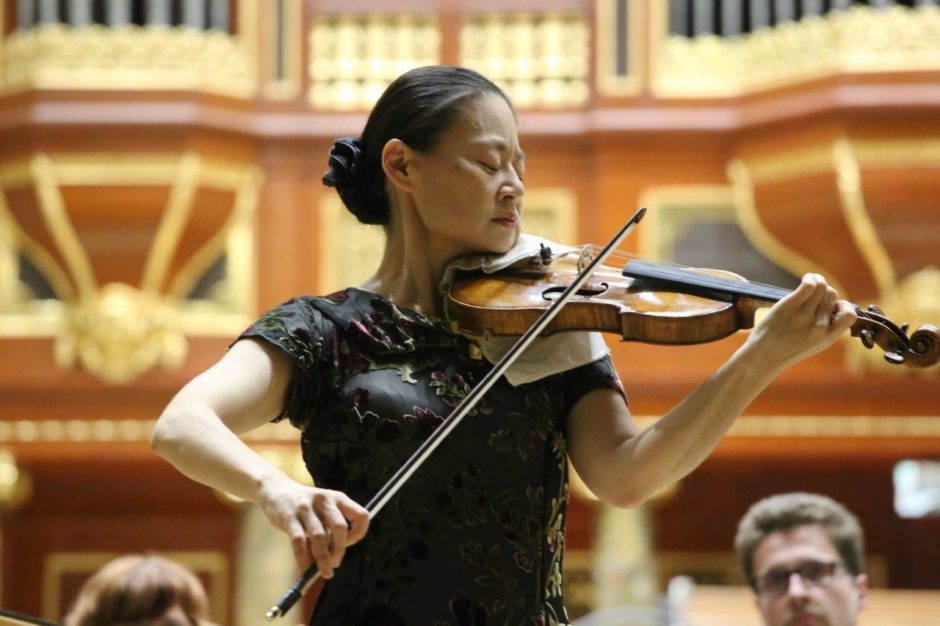 Midori, an excellent violinist, resident artist of Poznan Philharmonic in the artistic season 2019/2020, was to perorm on Friday 15th of May with Poznan Philharmonic Orchestra. Unfortunately, the pandemic disrupted these plans and we will not listen to her playing the Violin Concerto in D Major by Ludwig van Beethoven. The third concert of the resident artist will not take place. We miss her, and she misses us. So today instead of music she will share a few words with us:
Music has survived through many world disasters and catastrophes. Moreover, it has also supported us and helped us gain strength to continue pursuing beautiful elements in our lives. I believe that music will again prove to be a powerful agent to unite all of us together, so that we can rejoice with and console each other.
I am so sorry that we do not have an opportunity this week to meet in Poznan, and I will especially miss collaborating with the Orchestra. Until we are able to be in each other's company, I will keep my fond memories of Poznan and look forward to being able to be in your city again when it becomes possible.