22 February 2022
SPECIAL VIVALDI-MORRICONE CONCERT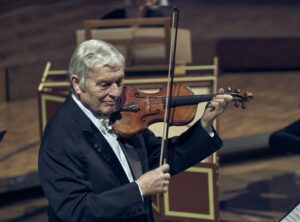 We highly recommend you the SPECIAL CONCERT Antonio VIVALDI – Ennio MORRICONE, scheduled for the 6th of May 2022 (Friday) at 8 pm in AMU Concert Hall.
The first part of the concert will feature the most famous and liked piece of music by Antonio Vivaldi – Four Seasons, Op. 8, in the masterful performance by Prof. Konstanty Andrzej Kulka, who 63 years ago, on the 25th of November 1959, played his first solo violin recital in Gdańsk-Wrzeszcz as a 12-year-old young virtuoso. He will be accompanied by Warszaw Philharmonic Cham-ber Orchestra led by Jan Lewtak and Danuta Kojro-Pawulska on harpsichord.
In the second part the listeners will be invited to the beautiful world of Ennio Morricone's film music, transcripted by Jan Lewtak and performed by the soloists and Warsaw Philharmonic Chamber Orchestra conducted by Jan Lewtak. The melodious vocalises will be sung by Magdalena Schabowska – soprano – and artists from Poznan Chamber Choir. The concert will be hosted by the popular radio journalist Paweł Sztompke.
Performers:
Konstanty Andrzej Kulka – violin
Warsaw Philharmonic Chamber Orchestra
Jan Lewtak – artistic management, violin
Artists from Poznan Chamber
Choir Bartosz Michałowski– artistic director, choir preparation
Danuto Kojro-Pawulska – harpsichord, piano
Joanna Monachowicz – oboe, cor anglais
Maria Lewicka – flute, piccolo
Magdalena Schabowska – soprano
Krzysztof Bednarczyk – trumpet
Witold Lewicki – harmonica
Paweł Sztompke – host
Program:
Antonio Vivaldi – Four Seasons, Op. 8
Ennio Morricone – music from the films: Once Upon a Time in America – Deborah's Theme, Cockeye's Theme, Chi Mai, D'amore si muore – For Love One Can Die, Once Upon a Time in the West, Romanza Quartiere, La califfa, Mission – Gabriel's Oboe, Le professionnel – Le vent, le cri, Per un pugno di dollari
Tickets for the event can be bought on the following website: Bilety24.pl
Concert organizers: FILHARMONIA Foundation