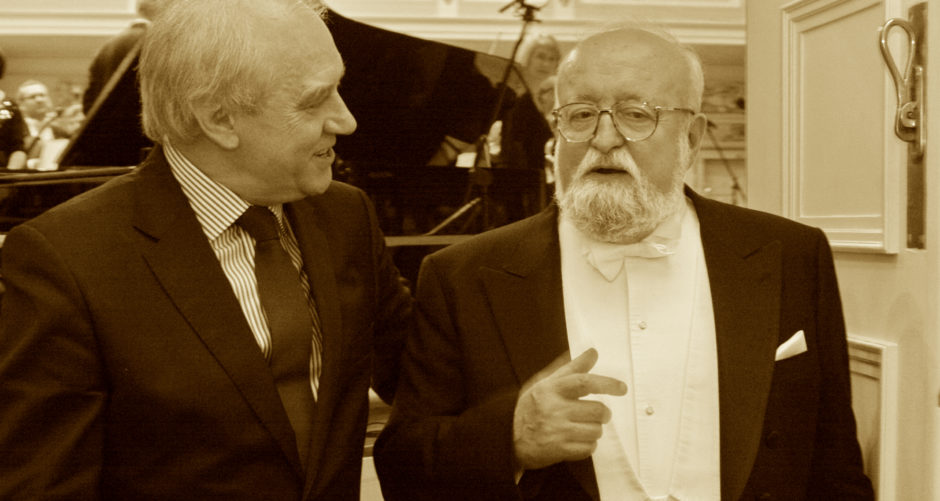 It happened almost 57 years ago. From the summer camps of Poznan Boys' Choir in Człuchów, besides a beautiful lake, I also remember daily rehearsals. It was because we, then 11-, 12- and 13-year-olds, came into contact with the music that was entirely unfamiliar, even incomprehensible. Though we considered the motets of Bach or Wacław of Szamotuły as "ours", these odd-looking notes and the sounds flowing from them (dissonances, tone clusters, exclamations) were entirely strange for our eyes and ears. These feelings accompanied me during the first rehearsals of a new piece – "Stabat Mater". One of the rehearsals was attended by the composer himself. What an experience it was!
October 1963. Berlin. Komische Oper – our concert at the Berliner Festtage festival. The event's culmination was the premiere foreign performance of the work – written for three choirs a capella, closing with a noble D major. Afterwards long-lasting applause and ovation, while the day afterwards – wonderful reviews.
This was my first contact with the music and… Krzysztof Penderecki. "Stabat Mater" became later a movement of "St Luke Passion", a piece that opened the Polish artist doors to grand concert halls and musical centers of the world. And "Stabat Mater" – the key concert point of Jerzy Kurczewski's choir, especially abroad.
Andrzej Lesicki, my peer, then 13-year-old, was one of the choirsingers at the Berlin concert. Now he holds the post of the rector of Adam Mickiewicz University – the title of doctor honoris causa from this institution was granted to Krzysztof Penderecki almost a quarter of a century later.
For many subsequent years my contact with the music of this composer was occasional. I remember that my choir friends recorded music for a children's opera "The Most Valiant Knight" staged by Poznań theatre "Marcinek" (now The Animation Theatre). I also recall my surprise, when I listened to the soundtrack of the film "The Manuscript Found in Saragossa" (kind of a pastiche of the works of early masters). And a huge impression that the staging of the opera "The Black Mask" in Autumn 1987 in the Poznań Opera House made on me, same as a decade later – the monumental Symphony No. 7 "Seven Gates of Jerusalem" performed in the fara parish church.
In the 90s I talked to Maestro several times as a journalist, always admiring his erudition and brilliance. More and more I marveled at the consequence in creating music referring to the main human values: faith and truth. And also at the understandability of his works.
When I took over the Poznan Philharmonic I knew, that I should invite here the most prominent Polish composers. I didn't manage to invite Henryk Mikołaj Górecki and Wojciech Kilar due to their health conditions, in spite of very nice conversations and great kindness from their side. While Krzysztof Penderecki had, like always, a tightly packed schedule. Knowing that in 2013 he would celebrate his 80th birthday and that he would be then sought-after not only in Poland, I figured we could suggest that he came a year before. Above all, his 79th birthday fell then (in 2012) on Friday, which is our habitual concert day. Maestro was so happy with his invitation to Poznań after many years that he suggested to perform with our philharmonic orchestra a Polish premiere of his recent symphonic piece – Double Concert for violin, viola and orchestra, which only a month ago had its world premiere in the Golden Hall of Musikverein in Vienna. In the capital of Austra Mariss Jansons conducted the work, while in AMU Concert Hall – the composers (in both performances Julian Rachlin, to whom the piece was dedicated, played the solo part on viola). In the second part of the concert held on the 23rd of November 2012 Krzysztof Penderecki led one of his favourite symphonies – No. 7 by Ludwig van Beethoven.
This evening (aired on Polish Radio Program II) the Jubilarian also collected the Jerzy Kurczewski Awards he was granted some time before as well as received numerous, mostly musical birthday gifts-surprises. The previous day in the Roman Maciejewski park he planted a beech tree grown in his own botanical garden. Besides music, trees were his greatest love. As he used to say, trees have roots both in the earth and in heaven. The unique park in the residence of Penderecki family in Lusławice confirms his love to trees. Maestro chose all the specimens and planted a majority of them himself.
After the Poznan concert we made a decision with the Hero of the evening that the Poznan Philharmonic will invite him a year before his "round" birthday to lead the concerts in a double role: as a composer and conductor. We entered the calendar a date in November 2017 and set the repertoire… It turned out later that Professor is to receive at that time his honoris causa doctorate from the Indiana University and conduct his "St Luke Passion" in Bloomington. We had to look for another date…
We met several time in different places and circumstances. In May 2018 in London we could have a longer conversation. Łukasz Borowicz conducted the London Philharmonic Orchestra in Royal Festival Hall. The concert's repertoire included Violin Concerto No. 2 "Metamorphoses" by Krzysztof Penederecki, with the solo part of Anne-Sophie Mutter. The composer arrived to this event with his wife, and at dinner we faced each other at the table. He always said that he would have to live a 100 years to complete all the orders he accepted, I asked what he was working on at the moment? And did he still start his daily work early in the morning? I heard that it's history, he cancelled some of his commitments, like composing an opera for Wiener Staatsoper. That currently he writes mostly chamber music which absorbs him.
When saying goodbye, we referred to the next artistic meeting in Poznań. I asked what he would like to perform then?
'Credo', he said, 'One of my most important works. Maybe even the best one? ….'
Recalling these moments in my memory today, I noted the statement of one of Maestro's friends from the Academy of Music in Krakow: "Once Krzysztof Penderecki remarked: a human being reaches a point in his live when he needs to say: I believe. CREDO."
Wojciech Nentwig
29th of March 2020