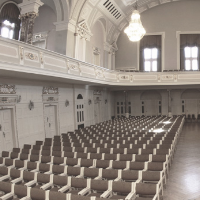 12 February 2021 (Friday)
, Adam Mickiewicz University Auditorium
We are pleased to announce that the next concert, on the 12th of February at 7 p.m., will be held in the AMU Concert Hall with audience participation. The program includes the works by Ludwig van Beethoven and the Poznan Philharmonic Orchestra will be led by Marek Pijarowski.
According to the decision of the Governmental Crisis Management Team, during the event only half of the auditorium can be filled. While staying in the building of the AMU Concert Hall keeping the sanitary measures is mandatory, including wearing a mask covering both your nose and mouth.
The concerts with the audience participation are held until the 26th of February (check below for the schedule). The opening of philharmonies, theatres and cinemas to the audience is conditional and lasts, so far, two weeks. The decision to either prolong it or once again close the institutions will be made by the Governmental Crisis Management Team.
We would like to remind you that the listeners are obliged to follow the rules of procedure of the Poznan Philharmonic Concert Hall during the COVID-19 pandemic, as well as to sign a statement about the current state of health and hand it to the employees of the Poznan Philharmonic when entering the AMU Concert Hall.
Rules of the audience organization in AMU Concert Hall – the Auditorium of the Poznan Philharmonic
Statement of the attendee of the concerts organized by Poznan Philharmonic
Until the 26th of February the ticket office of the Poznan Philharmonic is opened from Tuesday to Friday between 1 p.m. and 5 p.m., as well as an hour before each concert.
***
POZNAN PHILHARMONIC CONCERTS 12-26.02.2021:
Friday, 12.02.2021, 7 p.m., AMU Concert Hall
BEETHOVEN OUR CONTEMPORARY
CORIOLAN AND SLENDER GREEK MAIDEN
PERFORMERS:
Marek PIJAROWSKI – conductor
Poznan Philharmonic Orchestra
PROGRAM:
Ludwig van Beethoven, Coriolan Overture
Ludwig van Beethoven, Symphony No. 4 in B-flat major, Op. 60
Season tickets: DL | MW
Prize: A
Thursday, 18.02.2021, 7 p.m., AMU Concert Hall
Friday, 19.02. 2021, 7 p.m., AMU Concert Hall
VIOLIN AND THE HEN
PERFORMERS:
Guy BRAUNSTEIN – violin
Ariel ZUCKERMANN – conductor
Poznan Philharmonic Orchestra
PROGRAM:
Sergei Prokofiev, Violin Concerto No. 2 in G minor, Op. 63
Joseph Haydn, Symphony No. 83 in G minor The Hen
Season tickets:
SG  (18.02)
DL | MW (19.02)
Prize: A
Thursday, 25.02.2021, 7 p.m., AMU Concert Hall
Friday, 26.02. 2021, 7 p.m., AMU Concert Hall
487. POZNAN CONCERT
BEETHOVEN OUR CONTEMPORARY
PERFORMERS:
Eivind GULLBERG JENSEN – conductor
Poznan Philharmonic Orchestra
The program includes the Symphony No. 2 in D major, Op. 36, by Ludwig van Beethoven
Season tickets:
KP 1 (25.02)
KP 2 (26.02)
---