Poznań Philharmonic Orchestra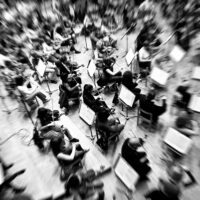 Poznań Philharmonic Orchestra
During the opening concert, which was held on 10 November 1947, the Poznań Philharmonic Orchestra performed under the baton of its first conductor, Stanisław Wisłocki. He was later succeeded by Jerzy Katlewicz, Robert Satanowski, Witold Krzemieński, Zdzisław Szostak, Renard Czajkowski, Wojciech Rajski, Wojciech Michniewski, Andrzej Boreyko, Mirosław Jacek Błaszczyk, José Maria Florencio and Grzegorz Nowak. In the 2007/2008 artistic season, Marek Pijarowski became Chief Conductor of the Poznań Philharmonic Orchestra. Łukasz Borowicz is the ensemble's First Guest Conductor.
One of the most famous and recognised Polish symphonic ensembles, the orchestra performs at major music centres at home and abroad. It has toured almost all European countries, and performed at several leading international music festivals, incl. the Romaeuropa-Villa Medici, Kissinger Sommer, Ankara Sanat Festivali, Festwochen in Herrenhausen, Bregenzer Frühling, Dresdner Musikfestspiele, Choriner Musiksommer and Ludwig van Beethoven Easter Festival, International Music Festival Janáčkův Máj, Smetanova Litomyšl International Opera Festival.
The Orchestra accompanied participants of the first post-war edition of the Chopin Competition in Warsaw; since 1952, it has regularly played with the finalists of International Henryk Wieniawski Violin Competitions in Poznań.
The ensemble has performed with such illustrious conductors, as Hermann Abendroth, Walerian Bierdiajew, Andrzej Boreyko, Marco Erede, János Ferencsik, Reinhard Goebel, Zdzisław Górzyński, Eivind Gullberg Jensen, Christopher Hogwood, Pietari Inkinen, Jacek Kaspszyk, Kazimierz Kord, Jan Krenz, Zygmunt Latoszewski, Zdeněk Mácal, Jerzy Maksymiuk, Sir Neville Marriner, Paul McCreesh, Rafael Payare, Jérémie Rhorer, Witold Rowicki, Ainārs Rubiķis, Jerzy Semkow, Stanisław Skrowaczewski, Václav Smetáček, Antoni Wit, Carlo Zecchi, as well as with outstanding soloists: Piotr Anderszewski, Martha Argerich, Piotr Beczała, Rafał Blechacz, Gábor Boldoczki, Pavol Breslik, Bertrand Chamayou, Sarah Chang, Andrzej Dobber, Helen Donath, Wojciech Drabowicz, Franco Fagioli, Jean Fournier, Malcolm Frager, Alexander Gavrylyuk, Monique Haas, Ida Haendel, Anita Hartig, Andrzej Hiolski, Philippe Jaroussky, Sumi Jo, Ryszard Karczykowski, Antonina Kawecka, Simone Kermes, Olga Kern, Gidon Kremer, Konstanty Andrzej Kulka, Aleksandra Kurzak, Sergei Leiferkus, Julia Lezhneva, Christian Lindberg, Bernard Ładysz, Adam Makowicz, Witold Małcużyński, Annick Massis, Albrecht Mayer, Francesco Meli, Johannes Moser, Leszek Możdżer, Victoria Mullova, Sergei Nakariakov, Wiesław Ochman, Garrick Ohlsson, David and Igor Oistrakhs, Gerhrad Oppitz, Emmanuel Pahud, Ewa Podleś, Maurizio Pollini, Samuel Ramey, Vadim Repin, Rugierro Ricci, Sviatoslav Richter, Mstislav Rostropovich, Artur Rubinstein, Gil Shaham, Göran Söllscher, Martin Stadtfeld, Akiko Suwanai, Henryk Szeryng, Maxim Vengerov, Arcadi Volodos, Wanda Wiłkomirska, Ingolf Wunder, Pretty Yende, Narciso Yepes, Christian Zacharias, Krystian Zimerman, Nikolaj Znaider.
The ensemble have made numerous recordings of symphonic, opera, and ballet pieces for the radio, television, and record companies (Sony Classical, Polmusic, Wichtel Records, Polskie Nagrania, Muza, Largo Records, DUX, CD Accord, Naxos). In 2015, the recording of World Opera Stars: "Ewa Podleś. Live with the Poznan Philharmonic Orchestra" (recorded in Poznan at a concert conducted by Łukasz Borowicz) was awarded the L'Orphée d'Or by the French Académie du Disque Lyrique.
Conducted by Łukasz Borowicz, the Poznań Philharmonic Orchestra together with the Choir of the Podlasie Opera and Philharmonic, as well as soloists—Wioletta Chodowicz, Robert Gierlach and Wojtek Gierlach—made in 2016 the world première recording of Quo vadis oratorio by Feliks Nowowiejski. Released in 2017 by the German record company cpo, in 2018 the two-CD album was awarded one of the most prestigious record prizes in the world: the International Classical Music Award.
2019 saw the release of "Stanisław Moniuszko, Cantatas Milda/Nijoła", which was the pieces' world phonographic premiere. Conducted by Łukasz Borowicz, the Poznań Philharmonic Orchestra recorded the two-CD album with the Choir of the Podlasie Opera and Philharmonic, as well as with soloists: Wioletta Chodowicz (soprano), Maria Jaskulska-Chrenowicz (soprano), Ewa Wolak (mezzo-soprano), Sylwester Smulczyński (tenor), Robert Gierlach (baritone), and Szymon Kobyliński (bass). In May  2020, the album made the Editor's Choice list of the best records selected by the prestigious British classical music monthly Gramophone.
Two world phonographic premiere albums were recorded by the Poznań Philharmonic Orchestra in 2020: "Michał Bergson, Concerto symphonique pour piano et orchestre op. 62 /Music from the opera Luisa di Monfort" (Jonathan Plowright – piano, Jakub Drygas – clarinet, Aleksandra Kubas-Kruk – soprano, Łukasz Borowicz – conductor, Poznań Philharmonic Orchestra), and the concert version of the opera Faniska by Luigi Cherubini. Conducted by Łukasz Borowicz, the Poznań Philharmonic Orchestra made the recording with Natalia Rubiś (soprano), Krystian Adam Krzeszowiak (tenor), Katarzyna Belkius (soprano), Robert Gierlach (bass-baritone), Tomasz Rak (baritone), Justyna Ołów (mezzo-soprano), Piotr Kalina (tenor), Poznań Chamber Choir (prepared by Bartosz Michałowski).
Famous throughout Europe for its excellent acoustic properties and exquisite Neo-Renaissance architecture, and capable of seating almost one thousand listeners, the Auditorium of Adam Mickiewicz University in Poznań is the concert venue of the Orchestra of Poznań Philharmonic.